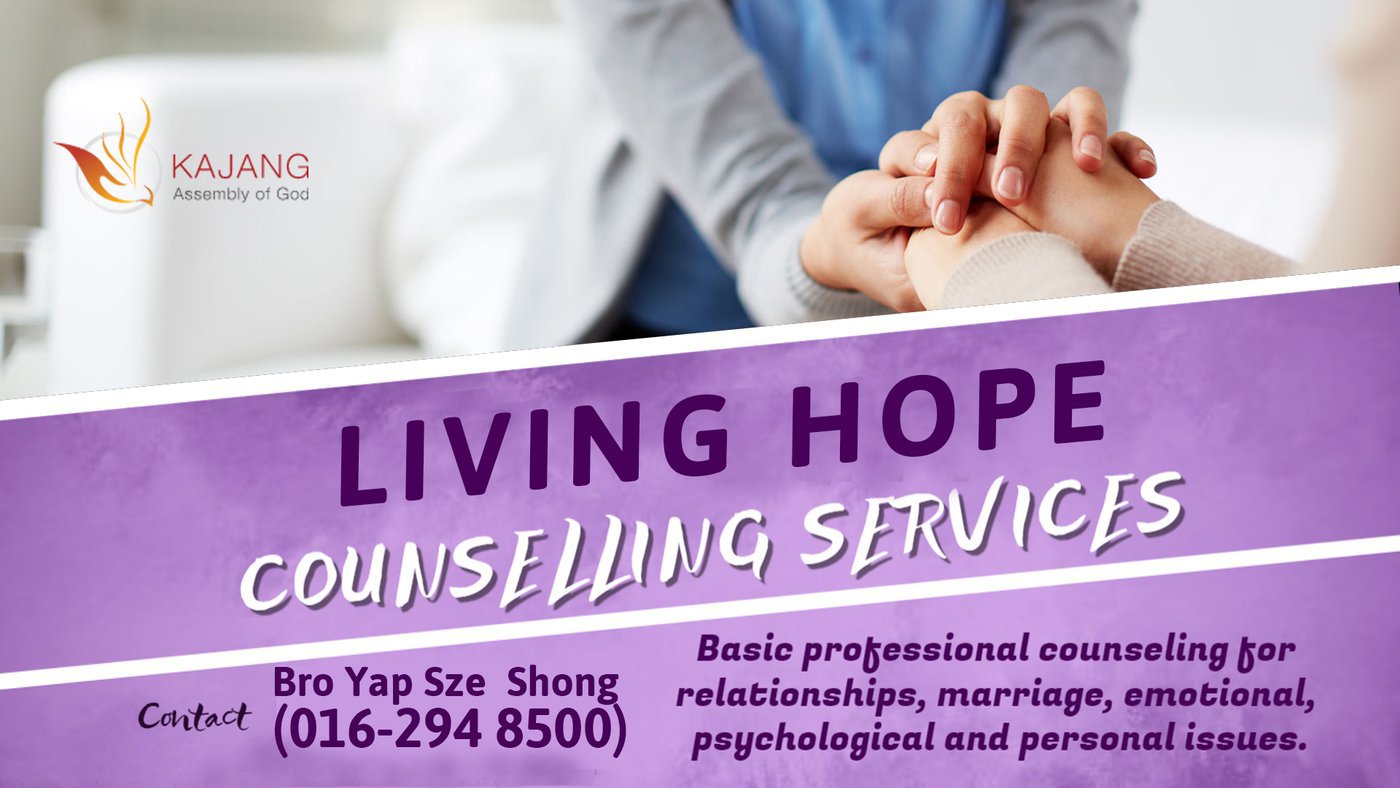 In the world that we now live in, life's pressures, stress and burdens can take its toll on anyone including children. It is with such concern that, as a community service, we are making available counseling services FREE OF CHARGE to the community at large irrespective of race, status, gender, age, culture and religion.
The decision to seek counseling is an important step. Too often, people don't get help because they feel guilt, shame or embarrassment. By deciding to get help, you have made a choice to feel better and to improve your life.
COUNSELING: DO I NEED IT?
If you (or someone else) …
• are seeking individual growth and long for more meaning in your life
• feel stressful, anxious, fearful, depressed and/or other strong emotions
• feel hopeless and life's not worth living
• seek better relationships in marriage and family life
• experience problems in parenting
• are facing identity issues
• are living through critical periods of grief or loss through death or divorce
• need help with direction in life and/or career
… then counselling can help you.
We seek to help as much as we can. If you need services that we cannot provide, we will help you find someone who can help you.
Remember,
EVERYONE AND ANYONE CAN BENEFIT FROM COUNSELING!!
INFORMATION ABOUT PRIVACY
We make every effort to follow the counseling guidelines contained in the Malaysian Board of Counselors Code of Ethics. This means we will keep the information you share with us strictly confidential with certain ethical and legal exceptions.
CONTACTING US
Counseling services are available BY APPOINTMENTS ONLY.
To call for an appointment:
- Calvin Lee 012-3731140
- Yap Sze Shong 016-2948500
ABOUT OUR COUNSELOR
Mr Calvin Lee is a Masters in Counseling graduate from HELP University College, a university renowned for their psychology and counseling programs.
His passion is to make a difference in the community through the advocating of the psychological, mental, emotional and spiritual well-being of persons.
Calvin has been involved for many years in a people-oriented environment, including stints specializing in dealing with adults, children and youth. He is, thus, passionate towards helping bring about healthy families and individuals.
Calvin had previously done his internship at Sekolah Seri Suria, Persatuan Kanak-Kanak Istimewa Kajang, Tadika Anak Seri Cahaya and Kajang Assembly of God.