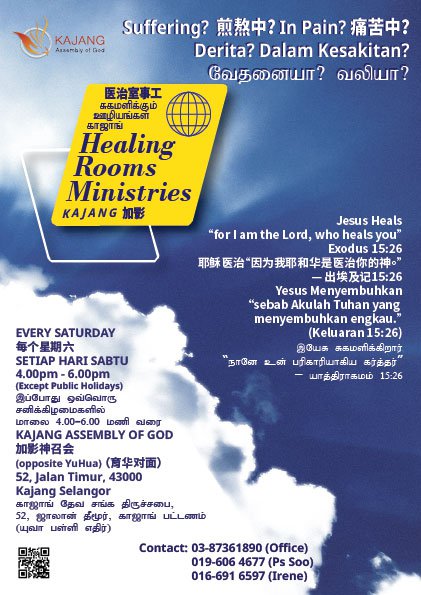 The HRM is an interdenominational ministry and was established in Spokane, Washington, USA. It was originally started by John G.Lake about 80 years ago. In 1999, Cal Pierce re-opened the Spokane Healing Rooms and founded the International Association of Healing Rooms (IAHR). There are now over 3,000 Healing Rooms in over 25 countries, including the US, Europe, Africa, India, Singapore and Malaysia.
In Malaysia, the first HRM was started in 2005 in Glad Tidings Church. Over 5,000 different individuals, including non-Christians, have so far come for prayers of healing. In Kajang, HRM started in 2014 in Kajang Assembly of God.
HEALING ROOMS operation
Venue: Prayer Room, KAOG@Timur 52, Jalan Timur, 43000 Kajang, Selangor
Operating Day and Hours:
Saturday
4.00pm – 6.00pm
(Closed on Public Holidays).
Open to the general public, a typical operation of a Healing Room works a lot like a doctor's clinic with a waiting room for registration. You may walk in or make an appointment by contacting us at:
03-87361890 (Office)
019-606 4677 (Pastor Soo)
016-691 6597 (Irene)